Health
Efforts to increase diversity in medical schools shouldn't be hampered by the Supreme Court.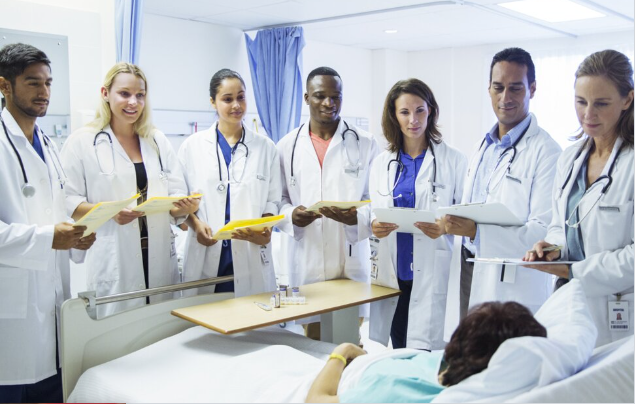 When making admissions decisions, medical schools in the United States have, for many decades, considered students' races. It is one of the many factors that go into the equation—along with test scores, grades, and individualized interviews—when choosing the mix of students that will ultimately result in a class of physicians who are most able to treat all of the patients across the country.
However, the Supreme Court of the United States is currently reviewing two cases that potentially prohibit medical schools from taking students' races and ethnicities into consideration. It is a change that would be detrimental to the health of the nation at a time when studies and experience suggest that having a varied physician staff is the greatest approach for a nation to serve its increasingly diverse patient population.
An amicus brief (PDF) was submitted to the Supreme Court by the Association of American Medical Colleges, which was supported by the American Medical Association and over 40 other organizations. The amicus brief urges the Supreme Court to "take no action that would disrupt the admissions processes the nation's health-professional schools have carefully crafted in reliance on this court's longstanding precedents."
In the brief that was submitted by the AAMC, AMA, and others, it is stated that "Medical educators have learned—through both scientific research and years of experience—that health disparities can be minimized when professionals have learned and worked next to colleagues of different racial and ethnic backgrounds in environments that reflect the ever-increasing diversity of the society the profession serves." This statement is made about the fact that health disparities can be minimized when professionals have learned and worked next to colleagues of different
"Diversity in medical education yields better health outcomes not just because minority professionals are often more willing to serve (and often very effective at serving) minority communities, but also because all physicians become better practitioners overall as a result of a diverse working and learning environment," says the brief that was filed with the Supreme Court as it considers the cases of Students for Fair Admission Inc. v. President and Fellows of Harvard College and Students for Fair Admission Inc. v. Students for Fair Admission Inc. v. President and Fellow
In the first case, the court is deciding whether or not Harvard University violates Title VI of the Civil Rights Act by discriminating against Asian American applicants, engaging in racial balancing, overemphasizing race, and declining to consider workable alternatives that are neutral about race. In the case involving the state of North Carolina, the question before the Supreme Court is whether or not it should reverse its decision in Grutter v. Bollinger, a case from 2003 that upheld the right of colleges and universities to consider applicants racial backgrounds when making admissions decisions.
Better overall health results
"Diversity saves lives," according to the amicus brief, which cites "an overwhelming amount of scientific information accumulated over decades."
For instance, one study found that Black physicians are far more likely than other types of doctors to appropriately estimate the pain tolerance of their Black patients and give the appropriate dosage of pain medication for those patients. According to the findings of another study, high-risk Black neonates who were treated by a Black physician had a survival rate that was more than twice as high.
According to the arguments presented in the brief, the court should rule that "preventing medical educators from continuing to consider diversity in admissions… will cost lives and decrease the quality of many others."
Learn more about the innovative series of continuing medical education courses that the American Medical Association (AMA) is offering on the topic of health equity. These courses are an offshoot of the AMA's strategic strategy to entrench racial justice and advance health equity.
A more accurate representation
The number of applications from historically oppressed racial and ethnic groups to medical schools remains dismally low.
It is possible that overturning Grutter would set off a chain reaction of severe and self-reinforcing losses in the variety of those working in the health care professions. According to the brief, states that have outlawed the use of race as a factor in college admissions have experienced a decline of around 37% in the number of minority candidates enrolled in medical schools.
Find out what the American Medical Association (AMA) is doing to encourage greater diversity in the physician workforce, and discover how a more varied workforce might help alleviate the shortage of physicians.