Western
Jan. 6 panel details Trump's Capitol actions
As a riot overtook the Capitol on Thursday, lawmakers shattered the former president's 187-minute silence and promised more hearings in the coming days.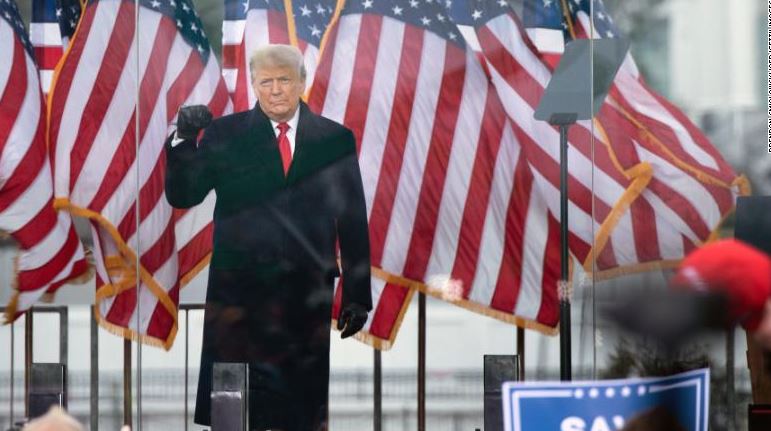 On January 6, 2021, as demonstrators broke through police lines at the Capitol, Donald Trump asked his advisers for a list of senators to call as he continued to look into ways to overturn the election results that had gone against him.
Former White House press secretary Kayleigh McEnany revealed in recorded evidence given at a public hearing on Thursday night that former President Donald Trump sought a list of senators. "He asked for a list of senators," McEnany explained.
Sen. Tommy Tuberville (R-Alabama), who earlier recalled receiving a call from Trump just as he and Vice President Mike Pence were being evacuated as the crowd encroached on the Senate chamber, was one of the senators who received a call from Trump. McEnany did not name the senators that were phoned, but one of them was Sen. Tommy Tuberville (R-Alabama). In its ninth July meeting, which was held during primetime, the select committee also revealed that Trump attorney Rudy Giuliani had called a number of other Republican congressmen the evening of the attack, purportedly to rally support for continuing to challenge the 2020 election. The hearing took place during the summer.
That was just one new thread of evidence woven by the select panel as it gave a narrative reminder that Trump did not merely sit on his hands during his supporters' riot; rather, he intended to use the mayhem to achieve his aim of holding to power. The panel also provided a narrative reminder that Trump supporters' riot was not an isolated episode. The special panel added additional details to Trump's activities on January 6, creating an image of a president sitting lazily in the Oval Office, watching on TV as the mob blasted its way through police lines and into the Capitol. The panel also depicted a president retweeting a photo of a lady who appeared to be Trump's mistress.
Fresh photos and videos revealed on Thursday put new, more specific light on the mood that Trump's vice president, Mike Pence, and members of Congress encountered as they walked away from irate demonstrators. The committee played recordings of Pence's Secret Service team making split-second judgments about how to navigate the Capitol building to avoid coming into close contact with the protesters.
"We may lose the ability to depart," one agent warned moments before Pence was escorted to an underground loading dock, where he remained for the duration of the disruption. The demonstrators had taken Pence hostage.
During the Thursday session, Rep. Adam Kinzinger (R-Ill.) declared that President Trump "did not fail to act… he choose not to act."
Despite the fact that Trump's public silence during much of the violence is well-known, the panel contends that the new evidence it presented about what happened inside the West Wing demonstrated that Trump purposefully did not intervene in the chaos until it was clear that the mob had failed to prevent the certification of Joe Biden's election. Despite the fact that Trump's public silence while much of the violence is well-documented.
Representative Bennie Thompson (Democratic Party of Mississippi), the panel's head, remarked in regards to the former president's children that Trump "ignored and disregarded the urgent pleas of his own family, particularly Ivanka and Don Jr." "There was nothing in the world that could shake him."
The session focused heavily on the now-famous "187 minutes," which refers to the time between when President Trump pushed his supporters to march on the Capitol at 1:10 p.m. and when he haltingly begged them to leave at 4:17 p.m. The hearing focused on the time that passed between those two occurrences.
New evidence from Trump's former White House counsel Pat Cipollone was extensively featured, including his account of conversations with coworkers about the crowd's shouting of "hang Mike Pence." Cassidy Hutchinson, a former White House aide, described overhearing Mark Meadows, the White House chief of staff at the time, discussing the problem with Cipollone. Meadows was quoted as saying that Trump thought Mike Pence deserved it.
Cipollone refused to say whether he discussed his concerns with Trump directly, citing executive privilege as the reason for his reluctance.
Sarah Matthews, a former press staffer for Donald Trump at the White House, described how easy it would have been for his aides to arrange for him to address the White House press corps to condemn the disturbance. "He might have been on camera fairly instantaneously," she claimed. According to her, the order was never delivered.
The hearing also highlighted the impact that Trump's tweet on January 6 at 2:24 p.m., in which he chastised Pence for his refusal to try to block the transfer of power, played in the event. The committee heard testimony from Trump White House aides who voiced discontent and disgust with Trump's attacks on Pence. This broadside was also heard in the throng, with rioters amplifying it and using it to incite others to enter the Capitol.
"My view is that it's a horrible tweet," Cipollone said in response to the select committee's query. "It was not an emotion I shared."
"The circumstances in the United States Capitol were only growing worse at that moment," said Judd Deere, a former White House deputy press secretary. "This was not going to help it in any way."
Several outtakes from Donald Trump's address on the afternoon of January 6 and the next day on January 7 were shown during the panel discussion. Trump struggled to condemn the violence and admit that the election had been lost.
I don't want to convey the impression that the election has already been completed. An excerpt from President Trump's statements on January 7 reads, "I simply want to say Congress has certified the results."
The hearing on Thursday evening marked the end of the most recent part of the select panel's investigation; nonetheless, the investigators have sworn to continue their work. Its investigation has yielded extraordinary new lines of inquiry, including as the apparent deletion of text messages by Secret Service personnel in the days preceding January 6, and legal concerns voiced by Trump's own White House counsel's office about the president's plans for that day.
One of the two members in charge of leading Thursday's hearing, Rep. Elaine Luria (D-Virginia), noted that "we anticipate further testimony" from the Secret Service.
Thompson said the committee would reconvene in September to continue presenting evidence to the American people about a "coordinated, multi-step effort to reverse an election managed and directed by Donald Trump."
Thompson believes that "accountability" should take two forms: legal accountability and public accountability to the American people. "I believe that we will fail to overcome the rising threat to our democracy if no one takes responsibility for January 6 and every component of this programme,"
Matthews and another ex-Trump aide, Matthew Pottinger, also testified in person during the session. Several members of the panel, however, showed extensive video clips culled from interviews with witnesses, drawing attention to Trump's vast network of pals who attempted to help him carry out his plans.
Witnesses are coming forward at a steady clip, according to all accounts, disclosing new knowledge about the many components of Trump's plan, which got more urgent as January 6 approached. Cipollone, for example, testified to the committee earlier this month in a closed session.
The committee emphasised that, despite President Trump's continued reliance on senators and allies to assist him in his bid to retain power — among the senators Giuliani called were Marsha Blackburn (R-Tenn.), Bill Hagerty (R-Tenn.), and Ted Cruz (R-Texas.) — he never called security agencies to send assistance to the Capitol.
According to fresh evidence released on Thursday, President Trump reacted to House Minority Leader Kevin McCarthy's calls for support on January 6. McCarthy has told allies that he disagrees with Trump's claim that the violent crowd was a left-wing assault disguised as Trump fans.
The committee also revealed that Trump's outside lawyers continued to plan potential legal actions that could overturn election results, even as Fox News host Sean Hannity texted then-White House chief of staff Mark Meadows and Rep. Jim Jordan (R-Ohio) in an attempt to force Trump out of the White House. This was done to try to force Trump out of the White House.