Covid
COVID-19 Is Still With Us. Will We Go Back To 2020?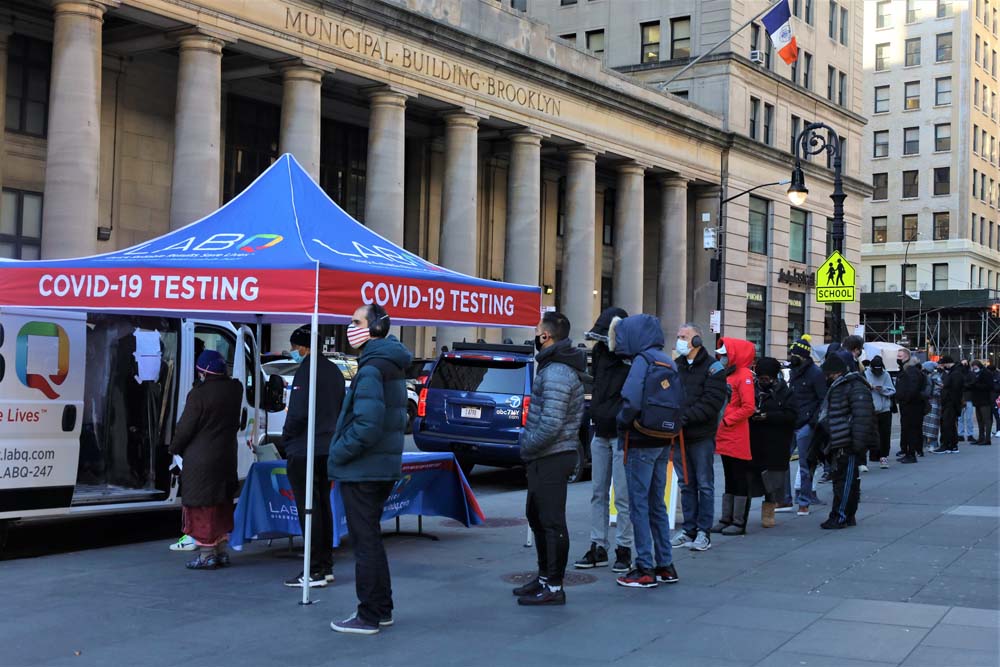 Ms. Marlene González, originally from Cali, Colombia, traditionally meets with her relatives for the Christmas and New Years' holidays, but her Christmas plans are being abruptly reversed as a result of the increase in infections and the threat posed by the variant. omicron in New York City.
For Ms. González, it was a normal day, she left her home in Astoria, Queens, to do her shopping and according to her, "take advantage of the COVID-19 test", however, despite being completely willing and after making several attempts, it was unsuccessful.
When he finished his shopping, he went to Steinway Street, the main street, or else, one of the main streets in the Astoria area, where most of the test stands are located. In a radius of almost a kilometer, seven sites were located, some were temporary sites with makeshift tents that were set up for the occasion, others were pharmacies and health centers. 
On his way to a CVS pharmacy, he came across a sign at the front door that read: "NO COVID TEST." Everything seemed to indicate that some people were desperately approaching to ask if they performed the test. And yes, there were people who bypassed the sign, in almost a minute and a half, three people came to ask if they perform tests to approach their luck and find a shorter line. 
Marlene González, along with thousands of New Yorkers in recent weeks have faced long lines and insane waiting times. Impacto Latino toured some of the five boroughs and witnessed what some people call "a nightmare." 
In Astoria, despite the cold of 38 degrees Fahrenheit, some took advantage and brought their books to read, others aware of the delay in the lines brought their folding chairs to be more comfortable, while others were focused on their cell phone. Of course, all the people were waiting in a hurry for their turn. 
"I have been here since 12:30 and I have been waiting for more than two and a half hours and I estimate that I will continue to wait longer because there are still about 10 or 15 people in front of me," said one of the people who preferred not to identify himself but did, she was uncomfortable while waiting to perform the test.
Those same reactions were heard at four test sites. Which led Ms. Gonzalez to change her mind and return to her home. "It's very cold, I think I'll be back tomorrow early to see if I can get tested," he said.
Establishing new test sites is really a must to meet the growing demand, and avoid long lines and waiting times. On a date when people anxious and tense await their results, to be prepared for the Christmas holidays.
To handle this growing demand, the elected officials of that area of ​​western Queens, Senator Michael Gianaris, Member of the Assembly Zohran Mamdani, and Councilwoman Tiffany Cabán, echoed that need by holding a press conference and calling for New York City to add more test sites due to the rapid spread of the Omicron variant during the holiday season.
The new member of the Municipal Council of Puerto Rican origin, said that she has received reports from her voters, who due to the increase in cases are trying to do the right thing when taking the test, but are "forced to wait more than four hours in the cold Only to then wait several days for a result is heartbreaking and infuriating, "said Tiffany Cabán.
"This increase in infections did not exactly slip through us; the outgoing mayor has had a lot of time to increase our capacity, rather than close the H + H test sites. We need more sites now, to keep our loved ones safe this holiday season, "demanded the representative of District 22 of the City Council. 
Surprisingly, New York City and State have seen an increase in cases. Mayor Bill de Blasio reported that earlier this week the city reached 6,989 new cases of COVID-19, a number that will undoubtedly continue to increase over time. 
For her part, Governor Kathy Hochul for that same date indicated that 21,908 positive cases were reported (out of 290,930 reported), which allowed the state of New York to exceed record figures in less than a week, reaching 7.98%, despite the new measures, such as the mandatory use of masks indoors throughout the state and the mandatory vaccination of private-sector workers and religious and private schools throughout New York City. 
With the arrival of Christmas and the end of the year celebrations, difficult moments are coming due to the fluidity of people who travel locally and nationally to visit their relatives, at a time when omicron is already the most contagious variant in the whole country.
Between December 12 and 18, omicron accounted for 73.2% of new cases, according to data released earlier in the week by the Centers for Disease Control and Prevention (CDC). 
The surprising increase in people infected by COVID-19 continues to plague New York City, for almost two years the pandemic has been among us, and it seems that once again, New Yorkers know someone who has been infected or hospitalized. A situation that was experienced in all its splendor in 2020 when New York became the epicenter of the global pandemic. 
"I will be here as long as necessary to take the test, my cousin was admitted to the hospital on Tuesday and we spent the whole day together on Sunday. Two of my relatives are here with me as well, we hope to have a negative result, "said Lorena Rosales, who was queuing at a vaccination site in Astoria. 
Ómicron a pandemic proximity
As Ómicron, the new variant of COVID-19 officially considered by the World Health Organization as a "worrisome variant," has rekindled fears about possible spikes in infections and deaths, New York City and state authorities are they keep alerts, especially due to the record figures reached in recent days. 
Although the number of infections and hospitalizations is not the same as in 2020 when a sequence of people that flooded the Intensive Care Units and emergency rooms developed, the accelerated increase in the numbers could represent a return to taking extreme measures such as the closure partial or total of the city.  
In the spring of 2020, New York City proved unprepared for the challenges it faced. Now with the highly communicable omicron variant, city health officials expect a new wave early in the year when people return from vacation. 
Mayor Bill de Blasio acknowledged that "a substantial increase in the number of cases is expected." However, in past press conferences, he has been optimistic despite the fact that the Christmas and New Year's Eve celebrations are just around the corner. 
"We hope it will be a matter of weeks, and then we will see that this begins to calm down," de Blasio said from City Hall. A responsibility that is defined and that will be assumed by incoming mayor Eric Adams, who will lead the city from next January 1, 2022.
The omicron variant is a clear sign that the COVID-19 pandemic that has caused the deaths of nearly 800,000 Americans, has not been eradicated and continues among us, once again frustrating hopes for a new normal and Christmas and weekend gatherings. of year. 
People walk through the streets of the city, looking for the least crowded place to take the test, while others are confused by those who rush to the stores to buy their Christmas presents. 
At a time when ómicron takes over the city, the tension in the streets is imminent, and the slightest sneeze, throat clearing, or coughing captures all the gazes of passers-by who mostly fulfill the mandate of wearing masks or face masks. 
These actions, which are mild symptoms of infected people, keep entire families in suspense about whether or not to cancel the end of the year festivities and their vacations. 
"We are all tired of this by now, but we also have to unify efforts and be responsible. I am here because I want to take the test and make sure that I am not infected. I hope I get negative because I have a flight to Miami this Friday to spend with my mother, "said Joaquin Lorio, who was also queuing at one of the test sites in Astoria.
Specialists continue to investigate the new omicron variant that was discovered in South Africa. Laboratory studies analyze how the virus interacts with antibodies and look at patient outcomes and large-scale data on infections and hospitalizations. 
What measures are the authorities taking?
When state and local health systems discovered the first 5 cases of the omicron variant in New York, Mayor Bill de Blasio, and Governor Kathy Hochul took further steps to stop the spread. 
De Blasio has said that it will be "difficult and challenging weeks," but that there are tools to combat this latest increase. "We can weather that storm if more and more people get vaccinated if more and more people are going to get their booster shots. This temporary reality demands an immediate and urgent step which is to maximize vaccination, "said the outgoing mayor of New York City. 
Although hospitalizations are not the same as last year, the stark contrast could be attributed to several factors including vaccination rates and new demands from authorities. 
The strategies announced by Mayor Bill de Blasio are several: he has demanded the expansion of hours and increases the capacity of test sites in response to the long lines. One million KN95 masks will be distributed free of charge and 500,000 tests will be added and delivered to the home through community organizations. 
It has intensified the application of the mandates of the use of masks and vaccines to workers in the private sector. Encourage people to visit vaccination centers and get the booster shot. 
To date, according to data from the city's Department of Health, only 1.5 million New Yorkers, or about 22% of adults, have received booster shots or an additional dose. About 82% of adult New Yorkers are fully vaccinated.
The latest effort made by Mayor Bill de Blasio was announced earlier this week and is that New Yorkers who start this Tuesday, December 21, 2021, get the booster dose of the COVID-19 vaccine, will receive a $ 100 bonus. 
At the state level, Governor Kathy Hochul said she will dedicate 65 million dollars to the different neighborhoods and counties to enforce the mandatory mask, in force in closed spaces since December 13. "We are going to fight, we are not going to surrender to the pandemic," said Governor Kathy Hochul.