Covid
The leader of the anti-mask movement in Texas died of COVID-19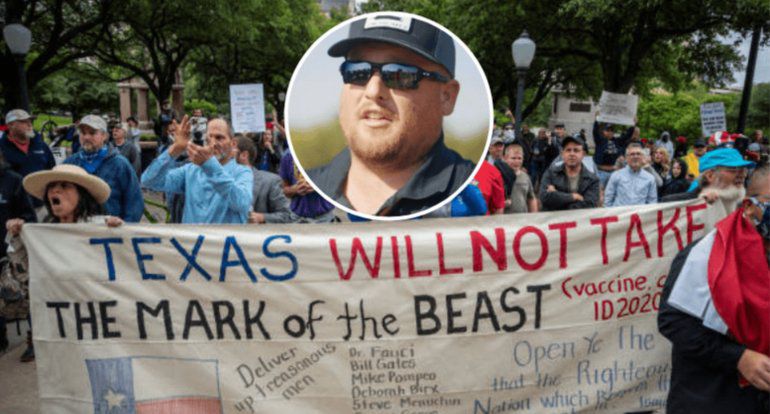 Caleb Wallace, 30, was the father of three girls and his wife was expecting their fourth child. When he began to feel symptoms, he refused to take the test or go to the hospital and instead took vitamin C, zinc pills, and ivermectin, an antiparasitic medicine.
An activist who spearheaded a campaign in Texas in against the use of masks and other preventive measures coronavirus died victim of COVID-19 , one month after being admitted to the intensive care ward.
Caleb Wallace died on Saturday, a month after being admitted to the hospital, his wife Jessica Wallace reported on the GoFundMe page. He was 30 years old and the father of three girls.
Caleb passed away peacefully. It will always live in our hearts and minds, " wrote the wife, who is now pregnant with their fourth child, the San Angelo Standard-Times reported.
On July 4, 2020, Caleb Wallace organized a protest in San Angelo where participants held signs against the use of masks and business closings, and rejected the scientific evidence on COVID-19 and the coverage that the press gave him. has given the subject.
"We are not happy with the state of affairs in America right now ," Wallace said in July 2020.
In April, he wrote a letter to the San Angelo school district, demanding that it revoke all preventive measures against the coronavirus.
Jessica Wallace told the newspaper that her husband began to feel symptoms of COVID-19 on July 26, but refused to take the test or go to the hospital .
Instead, he took large doses of vitamin C, zinc pills and ivermectin , an antiparasitic drug that experts have asked the population not to use for COVID-19.
Caleb Wallace was admitted to the emergency room on July 30 and since August 8 he has been unconscious and breathing with the help of a machine.
The day before her death, Jessica Wallace wrote online that her husband "was an imperfect man, but he loved his family and daughters more than anyone."
"To those who wished death, I regret that their views and opinions hurt them. I prayed that he came out of this with a new perspective and a greater appreciation for life. I can't say more because I can't speak for him, "he wrote.