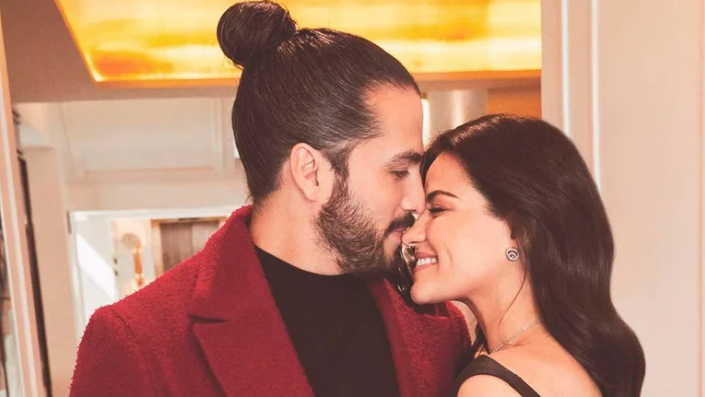 The producer was able to open his heart and for the first time spoke about his romance with the actress
After the controversy that Andrés Tovar and Maite Perroni experienced last year when confirming their courtship after the producer separated from Claudia Martín, the lovers have been very happy with this new stage in their lives on social networks.
However, although in October 2021, Maite was the one who announced her new courtship from her Instagram, Tovar had not talked about her relationship with the former RBD.
It was so that in a recent interview on the occasion of Sale el Sol's 41st anniversary, Andrés Tovar opened his heart and explained a little of the deep love he has for the actress.
"Maite is the most special person in my life, she is the love of my life, definitely, I do not say it with teeth, I say it live so that there is no edition," he said.
He also recalled that Maite is not a stranger to him, since he has known her for a long time and even recalled an anecdote:
"She is a woman I have known for a long time, more than 20 years ago, we met while I was running in the corridors of Televisa delivering memos, she was running in the corridor for her classes at the CEA," he explained.
The producer told about his romance with the actress (Photos: Instagram / @atovarp)
Tovar explained that things in life always coincided, either because of the places they were in or they were simply aware of each other's lives even if they had no sentimental ties.
"We always saw each other, we met, we greeted each other and we were always aware of each other (…) We began to realize that we always agreed on some things and, at times in life when she was living in New York and I was living three blocks from where she lived, that we were there at the same time, "said the producer during the broadcast.
Regarding how their romance began, Tovar delved into the fact that they both met on one occasion and the subject came out that the two were sentimentally available.
"It coincided that we met to talk about a project that I bring. There she told me that she had ended her relationship several months ago, I told her that I was also separated and we started the project and we began to share things to get ahead after the end of a relationship, "he said.
Maite Perroni caused controversy with a photo (Photo: Instagram/@maiteperroni)
Tovar explained that at that time they had both gone through a breakup, but that it was even an impulse because living through similar situations made them connect more sincerely.
"Today I am the happiest man, I honor, value, and venerate all the relationships I had before, of course, I appreciate it, but she is definitely the most beautiful woman," he concluded.
It should be remembered that a few days ago, Maite Perroni started 2022 making it clear that her tender image of soap operas is a thing of the past. The RBD published some provocative photos with her boyfriend Andrés Tovar on her Instagram account and they quickly went viral on social networks.
" My body, my Instagram and my life… 2022 ″ was the title that the actress gave to a series of black and white photos where she posed in a very sensual way with the actor, where she even wore striking jewelry from a Mexican designer.
Although the publication seemed to be one more among the wide repertoire that more than 10 million people follow, from his first image where Perroni posed alone, his followers assured that his image is very different from his work on Televisa since he participated in Netflix's Dark Desire series, Maite is different.