Travel
Controversial Statue Of Former New York President Roosevelt Will Travel To Dakota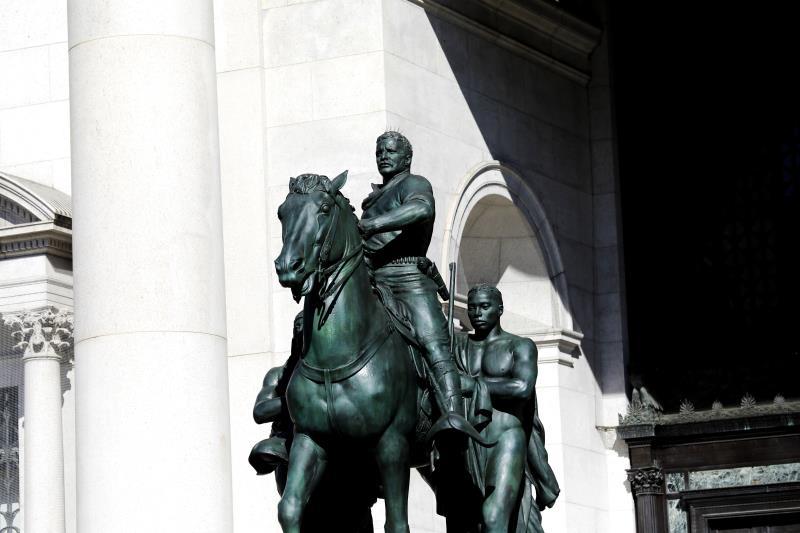 The large bronze equestrian statue of former President Theodore Roosevelt that has been housed in the New York Museum of Natural History since 1940 and whose removal was decided last June on the grounds that it glorifies racism and colonialism will find shelter in the Theodore Roosevelt Presidential Library in North Dakota.
According to a statement from this Library, which will not open its doors until 2026, both institutions have reached an agreement for a long-term loan of the statue of Roosevelt, president of the United States between 1901 and 1909.
In the imposing statue, commissioned in 1925 by artist James Earle Fraser, Roosevelt is mounted on a horse flanked by a black man and a Native American.
Requests to remove the work increased after intense anti-racist demonstrations over the death of African American George Floyd at the hands of a white policeman in Minneapolis in May 2020.
The Board of the Library that will house the monument, in the town of Medora, recognizes that the equestrian statue is "problematic in its composition" as well as that its current location prevents it from being properly contextualized.
According to the statement, the agreement reached with the city allows the institution to store the work "while considering an exhibition in which it would serve as an important tool to study the nation's past."
In addition, it points out that with the support of members of the former president's family, an advisory council composed of representatives of indigenous and black tribal communities, historians, academics, and artists will be constituted to guide the recontextualization of the statue.
"The equestrian statue is problematic in the hierarchical representation of subjects and should be removed from the official New York state monument to Theodore Roosevelt," added his grandson Theodore Roosevelt V, quoted in the note.
But according to his relative: "Rather than burying a problematic work of art, we must learn from it, so it is appropriate that the statue be relocated to a place where its composition can be recontextualized to facilitate difficult, complex, and inclusive discussions."
"It is said that 'those who do not learn from history are condemned to repeat it, and our job is to examine history frankly to understand the present and make a better future," stressed, for his part, the executive director of the Library, Edward O'Keefe.
The equestrian statue of Roosevelt is one of many other monuments throughout the country whose suitability is being reviewed under a vision that is intended to be the most equal and equitable in national history.
In the framework of this revisionism, last October, the New York City Council approved the removal of a statue of Thomas Jefferson, the third president of the country (1801-1809) who was a notorious racist and slave owner of 600 slaves.